Arena Sand
Bulk & Residential Delivery Service Available​ | Call For Pricing & Delivery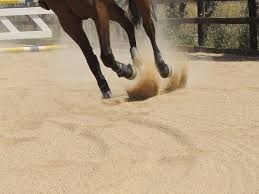 Premium Horse Arena Footing and Riding Arena Sand
Not all sands are the same. Our Arena sand offers a high level of stability and cushioning. Many manufactured sands sold by our competitors, such as silica and limestone sands, lead to extreme compaction, dust, and serious health concerns for riders and horses. Green Earth Arena Sand is a low-maintenance, all-around arena footing for those with barns, indoor arenas, outdoor arenas, and round pens that are training anything and everything from grand-prix style jumping to thoroughbred training tracks. Our footing offers beginners as well as the most experienced riders a chance to experience the benefits of a high-end footing with excellent traction and stability, yet it is ideal for budget-conscious barns.
Key Benefits of our Riding Arena Sand
Protection
All-Around Footing
Traction
Low Maintenance
Budget Conscious
Top-Quality Durability and Longevity
Stability and Cushion
Improves Health of Horse and Rider
Improves Drainage
Increased Performance
Prevents Injuries
Enables Longer Training Sessions
Softens the Impact on Hooves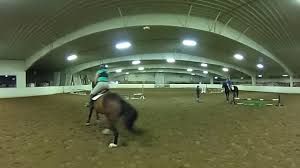 Riding Arena Sand
Arena Sand is one of Green Earths specialties, as we have supplied footing sand for over 40 years to many private riding arenas and equestrian centers all over Ohio and Michigan, including the Findlay Equestrian Center. Green Earth Arena Sand is specially blended for horse footing. Our arena sand helps cushion your horses' fragile joints and cartilage and makes the best arena surface for competing and training.
How Much Arena Sand Do I Need?
The depth of Arena Sand can vary, depending on what type of horses you have. For Jumper Horses 2"- 3" of footing is adequate while Cutting Horses need at least 6" of Footing. We recommend 4" of our arena mix to achieve the best results for most all-around horse arenas and horse barns. Regardless of the depth you choose, a consistent depth is the most important thing. If your footing is uneven, the horses or the rider could easily get injured or lose confidence. Once you decide on a depth that works for you, you must determine how much sand you will actually need. Check out the Green Earth Sand Calculator on our Calculator tab or call Green Earth today at 419-491-1999, and we will help you figure out how much arena sand you need.
We Deliver Horse Arena Sand And Horse Footing Sand
Green Earth has many different sized trucks and can deliver 6 days a week. We regularly deliver sand in Northwest Ohio and Southeast Michigan but can deliver anywhere in the United States. Green Earth also has the capabilities to install your horse footing, saving you time and money. We have state of the art equipment and experienced operators who will spread just the right amount of footing, so you don't end up with too little or too much footing. Call us today for a free quote or just call us for any questions you might have as we love to talk about our Arena Sand.
Green Earth provides riding arena sand and horse footing to the following areas in Ohio:
Delta
Wauseon
Deshler
Napoleon
Archbold
Bryan
Whitehouse
Perrysburg
Bowling Green
Leipsic
Ottawa
Findlay
Genoa
Oak Harbor
Freemont
Tiffin
Defiance
Oregon
Green Earth provides riding arena sand and horse footing to the following areas in Michigan:
Morenci

Monroe

Dundee

Temperance

Hillsdale

Adrian

Blissfield

Ann Arbor