PVCO Pressure Pipe
Gasketed Integral Bell (IB) PVCO Pressure Pipe Products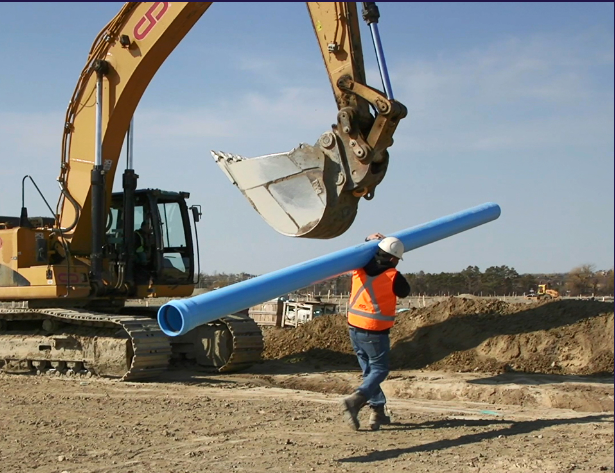 PVCO Pressure Pipes
Gasketed Integral Bell (IB) PVCO Pressure Pipe Products: The Future of Water Transmission
As populations and industries grow, so does the need for reliable water management systems. That's why at Green Earth Transportation & Materials, we are proud to offer state-of-the-art Gasketed Integral Bell (IB) PVCO Pressure Pipe Products that provide a sustainable solution for water transmission.
The IB PVCO pressure pipe products are designed to provide superior impact resistance, higher pressure ratings, and longer life expectancy than traditional pipelines. Our commitment to sustainability extends to our products' durability, energy efficiency, and recyclability.
The Gasketed Integral Bell (IB) design features factory-installed rubber gaskets that provide a secure joint seal, ensuring water travels through the pipeline with minimal loss. Our pipes boast a higher tensile strength, allowing them to withstand heavy loads, harsh environments, and seismic activity. This not only reduces maintenance costs but also minimizes the potential for pipeline leaks.
We offer a variety of IB PVCO pressure pipe products to meet different project requirements. Our products not only meet but exceed industry standards, making them suitable for numerous applications such as water supply, irrigation, mining, and more.
As a company committed to sustainability and innovation, we believe our Gasketed Integral Bell (IB) PVCO Pressure Pipe Products are the future of water transmission systems. Contact us today to learn more about our products and how we can help you build a reliable and sustainable water management system.
Call Us Toady to learn more about our products and services.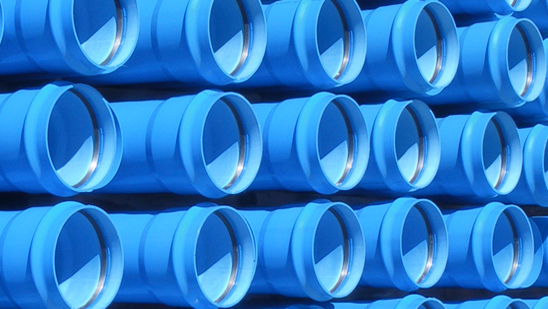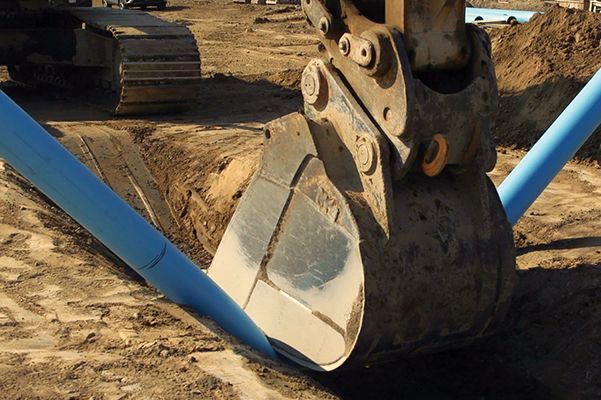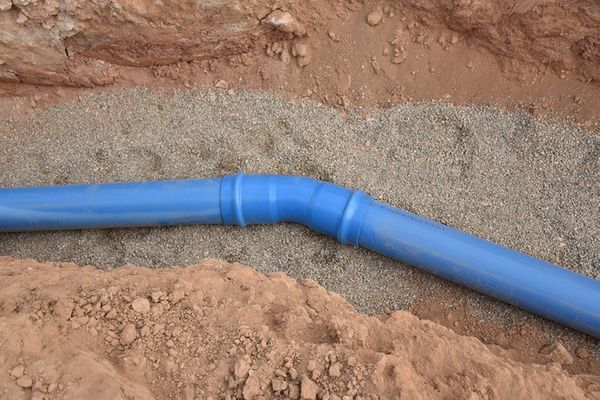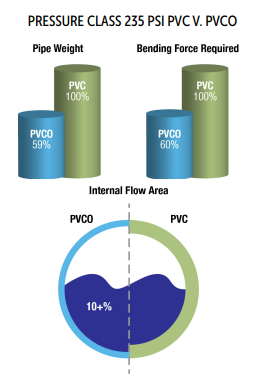 Less is More.
PVCO has less weight, but more performance.
About PVCO Pressure Pipes
PVCO (PVC-O) pipes represent a significant advancement over standard PVC pipes due to their unique molecular orientation. This process imparts superior mechanical strength to PVCO pipes, making them up to four times stronger than standard PVC pipes. This strength enables PVCO pipes to handle higher internal pressure and withstand extreme weather conditions and impact loads. Additionally, PVCO pipes have a longer life span compared to traditional PVC pipes, and they are more energy-efficient, making them an eco-friendly choice for water management systems. Overall, PVCO pipes offer superior reliability, increased durability, and lower maintenance costs compared to traditional PVC pipes.
Technical Notes
The Gasketed Integral Bell (IB) PVCO Pipe product line specifically to cater to the needs of modern municipal water, wastewater, and reclaimed water systems. Utilizing high-quality raw materials and cutting-edge processing technology, our PVCO pressure pipe not only satisfies industry standards but also fulfills our own robust quality control demands.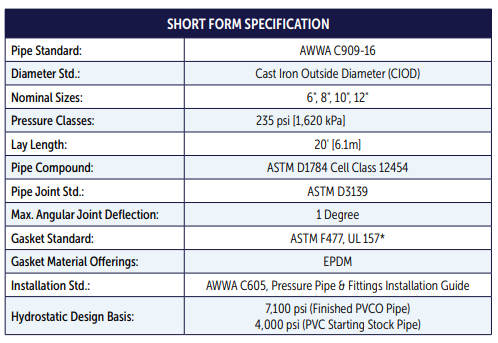 Why chose PVCO Pressure Pipes over PVC?
Both PVCO (polyvinyl chloride orientation) and PVC (polyvinyl chloride) pipes have several similarities. For example, they have the same minimum bending radius and allowable offsets for longitudinal bending of AWWA C909 PVCO pipe and AWWA C900 PVC pipe. Additionally, both AWWA C909 PVCO and AWWA C900 PVC pipes use Cast Iron Outside Diameter (CIOD) and are compatible with AWWA C907 injection molded fittings and C900 Fabricated PVC fittings. The short-term pressure rating for both is also 1.6x the pressure class of the pipe. Finally, the thermal derating factors for operating temperatures elevated above 73°F (23°C) are the same for AWWA C909 PVCO and AWWA C900 PVC, although there is a difference in maximum service temperatures between the two materials.
If you're looking for a total solutions provider for your water management needs, look no further than Green Earth Transportation & Materials of Toledo. Contact us today to learn more about our product offerings and services.
Skilled Staff - Quality Sourced Materials - Well Equipped.
Green Earth located, just West of Toledo Ohio, proudly serves Southeast Michigan and Northwest Ohio.
From major highway construction materials transportation and erosion control grading to residential and built topsoil delivery, Green Earth has the trucking delivery fleet, manpower and materials to get the job done.