Pea Gravel
Bulk & Residential Delivery Service Available | Call For Pricing & Delivery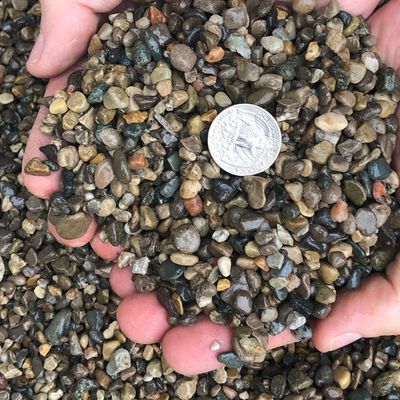 Pea Gravel ​​For Every Landscaping or Construction Project ​​
Whether you're looking to add some landscaping or need gravel for a construction project, you might want to consider using pea gravel. Pea gravel is a decorative and useful landscaping material for making walkways, driveways, and even patios.
Pea gravel is a small, smooth stone that is typically 3/8" or less in size that homeowners and contractors use often for their gardening, landscaping, and outdoor construction needs. It is named pea gravel because the product is comparable to the size of peas. You can place it for use in almost any situation for landscaping, including lawn accents, landscaped walkways, drainage assistance, or even as a driveway.
Green Earth Materials offers a multi colored pea gravel in Toledo, Ohio that is 3/8" x 3/16" in size. We offer pea gravel delivery or pea gravel pick-up in Holland, Ohio at our sales yard.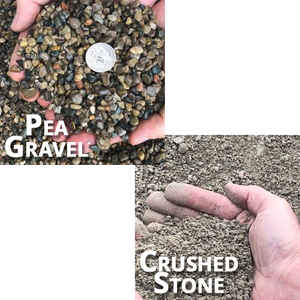 Crushed Stone vs. Pea Gravel
To the untrained eye, crushed stone and pea gravel may both just be some form of rock, but each one serves its own purpose and has its own specific set of uses. From shape and size, to applications, to even cost, these two materials are different. Crushed is typically used as an aggregate for underground projects. Many contractors prefer to use ½" or ¾" crushed stone as a subbase material before pouring concrete. Since it's durable, it is also regularly used for back fill, drainage solutions, or pipe bedding. Larger crushed stone, such as 304's or 1's and 2's are typically used for parking lots, driveways, shoulder stone, or railroad ballast, while 411's and 6's are used for driveway stone as well as drainage. While it is typically found in underground applications, there are some people who opt to use crushed stone for landscape beds or as decorative rock around walkways.
Pea Gravel is one of many types of gravel and is not to be confused with the angled gravel commonly used for drainage and underground structural construction. It behaves very differently, owing to its smooth round or oval-shaped stones. Unlike crushed stone, pea gravel won't lock together to form a stable base. When you use it as a mulch or hardscape material, you will always want to confine it with some type of edging material, or you'll end up losing most of it. Pea gravel isn't the best material to use on a slope as the smooth edges will cause the pea gravel to slip over one another rather than interlocking as angular gravel does. The different color options allow pea gravel to complement the landscaping or to stand out from the foliage. Since it has a smooth finish, pea gravel is also regularly used for walkways, dog runs, playgrounds, patios, and a variety of other high-traffic areas. Like crushed stone, pea gravel can also be used for underground projects, such as drainage and pipe bedding. It's also a good choice when looking for fence post installation aggregate.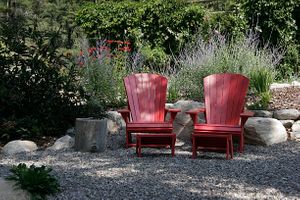 Pea Gravel for a Patio
Pea Gravel is a low-cost patio option that can produce exceptional results. You can usually create an entire patio from pea gravel from 1 ton of material. You'll want to lay down some landscaping fabric before you place the stones down in your yard to prevent weed growth in the future. Some properties may need to compact the ground before delivery as well. Then you just scoop up the gravel, place it where you want it to be, and you're ready to start enjoying the outdoors with your new patio. It is cheaper than pavers, easier to lay than flagstone, and you can usually get the job done in just a day. Because pea gravel is smaller and usually rounded in shape, it is easier to walk on this product with a variety of footwear. You can even use your new patio barefoot if you want since there are fewer sharp edges that can bother your feet. When you decide to use pea gravel for your patio, then its small size gives you a lot of versatility when implementing your final design. There is the option to mix it with other stones and gravel-like material to create a stunning landscaping feature. If you don't want to take the time to lay down a landscaping fabric before you place the pea gravel for your porch, then there's still some good news. When this landscaping product is at least 4 inches thick, then it will naturally prevent unwanted weeds from growing in your patio. This advantage also means that a thicker layer stays free of messes more often than other materials since the rain will not make it muddy.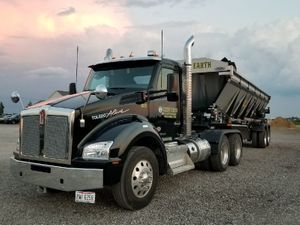 Commonly Asked Questions About Pea Gravel
1. WHERE TO BUY PEA GRAVEL NEAR ME?
For those of you who are wondering "where to buy pea gravel near me" or looking for pea gravel pricing, you can buy pea gravel in bags at any home supply outlet, but that isn't the best way to buy it. You'll spend considerably more than you will if you get it in bulk. Green Earth Materials offers a multicolored pea gravel in Toledo, Ohio that is 3/8" x 3/16" in size. We offer pea gravel delivery or pea gravel picked up in Holland, Ohio at our sales yard.
2. WHO OFFERS PEA GRAVEL DELIVERY NEAR ME?
Green Earth Materials offers pea gravel delivery no matter how many tons you need. Our professional certified drivers and modern fleet allows us to provide the best customer service possible. Our drivers are commercially licensed and fully trained on all of our equipment. We have a very well-maintained delivery fleet to meet all your residential pea gravel delivery needs. Our delivery fleet is centrally dispatched and have GPS and radio capabilities to allow for efficient deliveries.
3. HOW MUCH DOES PEA GRAVEL COST?
The cost of pea gravel will vary depending on where you live, the specific type, and how much of that product you will need. To determine exactly how much each option would cost for your specific project, it's a good idea to get an estimate from a local supplier.
This way, you'll be able to determine exactly which option is the most cost-effective for your project. Call Green Earth Materials today, and we can help you figure out the cost of pea gravel in your area. We can even give you a price for pea gravel delivered.
4. HOW MUCH PEA GRAVEL DO I NEED?
Pea Gravel will cover around 120 square foot per ton at a depth of 2". If you want to use it as a ground cover stone or landscape stone, you will want to go at least 4" deep to keep weeds from coming up into your landscape beds. You can use the stone calculator on our page to help you figure out how much pea gravel you will need or give us a call at 419-491-1999 and we can help you out.