Landscape River Rock & Stone
Bulk & Residential Delivery Service Available | Call For Pricing & Delivery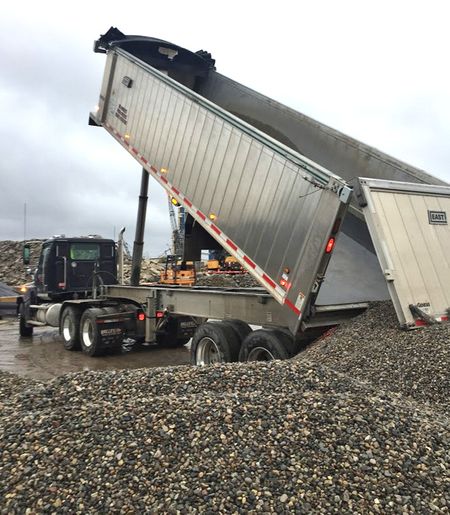 Stone Delivery Near Me
River Rock & Stone ​​For Every Landscaping Project ​​
Gravel, landscaping stones, or crushed rock, is a valuable landscaping material because of its accessibility, affordability, and excellent draining properties. Gravel is also a strong foundation base for many landscaping applications like sheds, walkways, patios, driveways, french drains, stone pavers, and walls.
With our bulk gravel or crushed landscaping stone, you can easily turn a simple backyard into a summertime oasis. Build a beautiful patio, improve drainage in low or muddy areas, update your driveway, or even line flower beds with a beautiful design.
No matter the project, we have top quality gravel to provide your project the strong foundation it needs. Whether you need decorative river rock, pea gravel stone for a landscaping project, bulk gravel as a base for a foundation for your construction project, or driveway gravel, we can supply it.
We have several different aggregate products available for pick-up or delivery, and our crushed stone comes in several different sizes and colors. Including limestone screenings, #6/57 stone, 411 berm stone, pea gravel, driveway gravel, and river rock, we have the best quality stone and prices in the Northwest Ohio and Southeast Michigan area.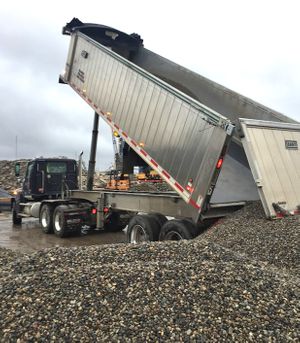 Landscaping Stone Delivered Conveniently To Your Home Or Jobsite
As a Women's Business Enterprise Certified (WBE) company and the largest local supplier of sand, stone, and topsoil, we own and operate our own fleet of dump trucks which allows us to easily and efficiently deliver landscaping supplies, including landscaping stones, decorative river rock, 6a drain stone, and pea gravel directly to our customers. We provide the exact amount they need and dump right where they need it, saving our customers the time, hassle, and mess of transporting gravel themselves. If you do prefer to pick up our landscaping stone or pea gravel yourself, our experienced team of landscaping professionals will be ready to help you load the exact amount of materials you need into your truck bed or trailer.
Instantly Improve Your Yards Appearance With River Rock
Landscape stone is one of the easiest ways to quickly and affordably rejuvenate home and commercial landscaping. Using landscaping stone properly can decrease irrigation use and protect your landscaping investment by slowing topsoil erosion. Picking the right landscaping stone keeps plants healthy and protected, saves water and restricts weed growth.
Utilizing River rock in your yard can help you create a distinctive style all your own, and adds a fresh, clean upgrade to your yard's look. Landscaping with stone or river rock will help you create a maintenance free landscape that you can enjoy for years and will save you money after the first year. The low maintenance, low cost and longevity of stone and river rock is why many landscaping companies prefer to use river rock instead of mulch. If you are searching the internet for " Gravel near me" or "Landscaping stones" look no further, call Green Earth today for the best prices on River rock and pea gravel around!
Washed River Rock And Washed River Gravel For Pick Up Or Delivery