River Rock
Bulk & Residential Delivery Service Available​ | Call For Pricing & Delivery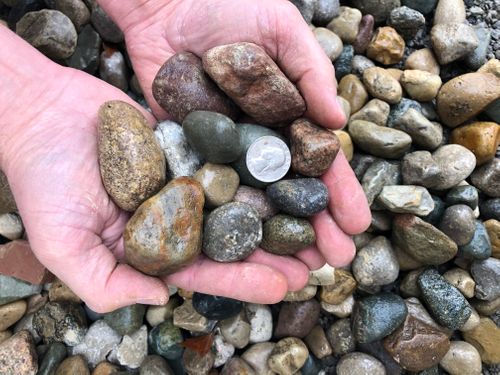 Washed River Rock and Washed River Gravel
Crushed gravel is angular with many sharp surfaces and has a rough textured look. It is primarily used for driveways, roads, and other construction applications. River Rock, on the other hand, has the appearance of smooth washed stones, making it ideal for landscaping stones, flowerbeds, and more upscale properties when visual appearances are important. River rock is commonly used for landscaping; however, it has many other uses. Washed Gravel is a smaller river rock and is sometimes referred to as medium sized river rock or drain stone. This stone is smooth gravel that is round in shape and typically ranges from 3/8" up to 1". River gravel can be used as a landscape stone, but is mostly used for drainage gravel. It also has many other uses.
Key Benefits - River Rock
Looks Great
Erosion Prevention
Safer Than Mulch for Garden Beds
Animal Deterrent
Decorative Effect
Adds Value to Your Home
Less Expensive Than Mulch
Maintenance Free
Lasts Forever
Common Applications For River Gravel
Landscaping
Roofing Ballast
French Drains
Gardening
Backfilling Foundations
Leach Field
Walkways
Accents
How Much Do I Need?
The amount of river rock you need can vary depending on what size of gravel you are using and how thick you are putting it. Once this is decided you will need to measure the area and then convert this into tons. Check out our stone calculator on our calculator tab or call Green Earth today at 419-491-1999, and we will help you figure out how much material you need.
Need River Rock And Gravel Delivery?
Once you have your landscape bed all set up and ready to grow, it may be time to invest in quality landscape fabric, landscaping rocks, and gravel. Not only will this help complete the look, but it can help control weed growth as well. Gravel delivery services are just a phone call away, and it could add the perfect finishing touch to your landscape. At Green Earth, we offer Gravel Delivery as well as dirt removal services. Green Earth has many different sized trucks and can deliver 6 days a week. Green Earth delivers river rock and river gravel in Northwest Ohio and Southeast Michigan.