Pond Installation
We dig ponds from 1/3 acre up to 3 acres.
Let Us Beautify Your Landscape with a Body of Water.
If you want to beautify your landscape with a pond or lake, rely on the skilled staff at Green Earth Materials to perform the work according to your requirements.
Our professionals at our Pond Digging Company will use our knowledge of the local landscape to determine whether your site is suitable for a body of water.
Including a pond into your property not just enhances the landscape and adds value to your house, but it also provides several other environmental benefits that include:
Reduced lawn maintenance, resulting in fewer pollutants and carbon monoxide emissions
Decreased need for pesticides and fertilizers
Water conservation – (less lawn watering)
Attracts and supports local wildlife (fish, plants, small animals, etc.)
Provides tranquility and a beautiful natural setting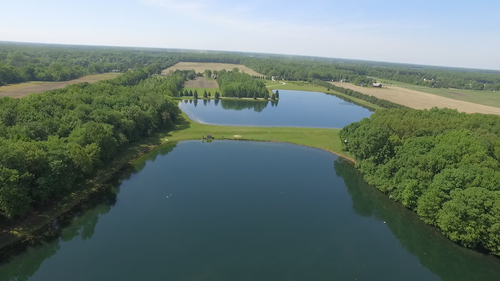 The smaller pond is 10 acres, and the larger pond is 16 acres. The deepest part is 18 feet.
We are the best pond contractor in the Toledo area
Our knowledgeable staff is well prepared for pond excavation, and our professional pond builders have years of combined experience and knowledge. Let us help you bring your imagination of the perfect backyard oasis to life! Call the best Pond Digging Company in Toledo.
The staff at Green Earth Materials offers a start to finish experience in pond installation unmatched. From the initial design to the whitest beach sand in Ohio to finish off the perfect backyard memory maker, we have you covered!
Imagine the years of enjoyment this investment will provide for the family.
Swimming, fishing, sand sports, ice skating, and even wildlife watching! Your home will suddenly be the gathering place for many to enjoy.
Call us for a pond consultation, and let's get our pond diggers started!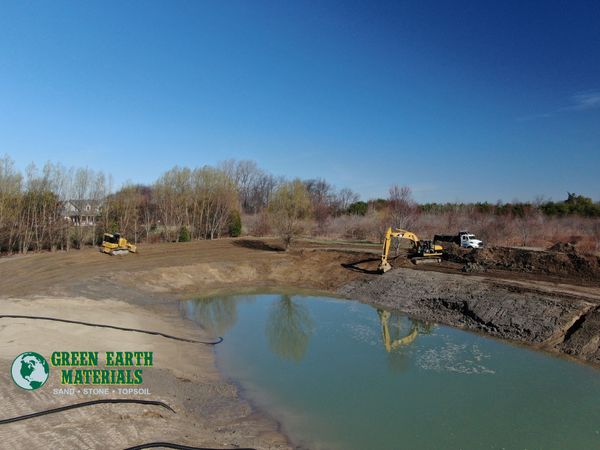 Pond Digging Company
Commonly asked questions about ponds:
What size pond is the right size?
Sizes vary based on needs and property available. We can dig a pond of any size. If you are looking to have a pond dug strictly for swimming and backyard aesthetics, ¼ acre will suffice. Most digs are between 1/3 and 1 acre, perfect for swimming, fishing, ice skating, water swings/slides etc.
Again, our experts at Green Earth Materials will be happy to consult with you on the perfect size pond to fulfill your needs.
Swimming pond vs. pool, which is better?
Of course, we at Green Earth Materials prefer the "greener" of the two based on many factors; the swimming pond is much more carbon footprint friendly based on several facts. Though the real appeal of an eco swimming pond is aesthetic rather than environmental, installing one of these alternatives does provide some planet-friendly upsides. For instance, unlike conventional chlorinated pools, natural swimming ponds are not heated, saving on energy costs. Lower temperatures reduce evaporation and thus, water use. Owners can also bank the average $350 to $500 that most Americans spend on chlorine and pool chemicals each year.
Is there a long wait to get a swimming/recreation pond dug?
Unlike pool build outs that we are seeing up to 2 year's of wait time, our expert pond builders can have you on your way to a Green Earth backyard oasis within days, NOT months!
Call us and we will give you a free, no pressure consultation and estimate, and we will be prepared to start the dig as soon as you are ready!