Expert Residential Delivery Service of Topsoil, Sand, and Stone.
Delivering 6 days a week. Call today for a quote!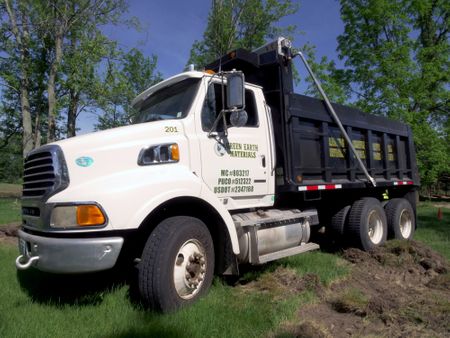 No Job Too Small or Large 
As the leading topsoil supplier in the Northwest Ohio and Southeast Michigan area, Green Earth has the ability to deliver anywhere from 1-24 ton loads of topsoil, sand, and stone safely to your home. We are dedicated to providing accurate, efficient, and timely residential deliveries.
Trained Drivers and Modern Fleet
Our professional certified drivers and modern fleet allow us to provide the best customer service possible. Our drivers are commercially licensed and fully trained on all of our equipment. Additionally, our delivery fleet is centrally dispatched and have GPS and radio capabilities to allow for efficient deliveries. We have a very well-maintained delivery fleet to meet all your residential topsoil, sand, and stone delivery needs.
Customer Service
Call "Green Earth" today at 419- 491-1999 to speak to an expert about your residential dirt, stone, or sand delivery. Our trained and knowledgeable staff is here to answer all of your delivery questions. Green Earth works hard to make sure you have the exact quantities of landscaping materials you need in the right place and at the right time.
Sand Products
Fill Sand
Yellow Sand
Beach Sand
Manufactured Sand
Horse Arena Sand
Concrete/ 2NS
Masonry
Topsoil Products
#1 Topsoil
#2 Topsoil
#3 Topsoil
Bioretention soil
Garden Mix
River Rock Products
Pea Gravel 3/16" x 3/8"
6A Drain Gravel 3/8" x 1"
Landscape/ Roof Gravel 1"x 2"
Limestone Products
Screenings
#4's
#6/57's
#8's
#304's
#411's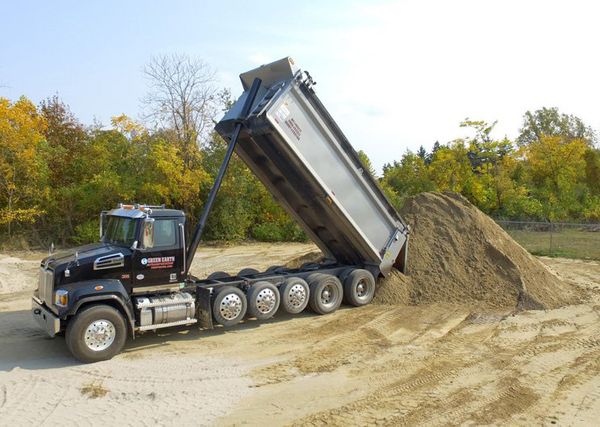 Frequently Asked Questions
Do we need to be home when you deliver the topsoil, sand, or stone?
No, it is not necessary for you to be home to receive the delivery. We understand that it can be difficult to schedule a delivery, and many people cannot make it home to meet the delivery driver. So, many people will call in a credit card and pay over the phone and then leave a cone, paint an X on the grass, email, or text a map with dump instructions.
Can you deliver topsoil into my back yard?
We try to provide our customers with the best service possible; however, each site is different, and the ability to deliver topsoil into your back yard depends on yard conditions, overhead wires, as well as clearances between trees, sidewalks, and other obstacles. We are unable to confirm onsite conditions and dump locations over the phone, so this decision is made onsite by our professional certified delivery drivers.
Can you drive on our driveway and dump the sand, topsoil, or stone?
We are not responsible for delivery beyond the curb; however, most driveways will support the weight of a tandem dump truck loaded with 8-10 tons of material with no problem.
What size delivery trucks do you have?
We have many different sized trucks that are capable of hauling different sized loads. Our tandem trucks can deliver 1-14 ton loads of sand, stone, or topsoil. We have five axle delivery trucks that are able to deliver 1-18 tons per load and six axle delivery trucks capable of hauling 1- 20 tons per load. For the larger bulk sand, stone, and topsoil deliveries, we have seven axle delivery trucks that can deliver 1-22 ton loads and semis that can deliver up to 24 tons of material in each load.
I am trying to fill a pool in, can you back up and dump in the hole?
No, unfortunately we cannot dump into a hole. We would need to dump into a pile near the area you are trying to fill. You would need to use a piece of equipment to move the material or call us, and we can do it for you. Green Earth has the equipment and trained operators to help you with these projects.
How many days ahead of time do we need to schedule delivery?
Green Earth offers same day residential sand, stone, and topsoil delivery 6 days a week!
What is your delivery radius?
We Proudly Delivering Topsoil, Dirt, Sand, Gravel and Stone to Northwest Ohio and South East Michigan. We regularly deliver to Toledo, Maumee, Swanton, Wauseon, Delta, Defiance, Bowling Green, Whitehouse, Holland, Waterville, Sylvania, Perrysburg, Oregon, Rossford, Napoleon, Morenci, Sand Creek, Adrian, Tecumseh, Ottawa Lake, Lambertville and everywhere in between. We can deliver for you today. Just give us a call or send a contact request by clicking here.