Limestone #304 (Large Berm)
Bulk & Residential Delivery Service Available​ | Call For Pricing & Delivery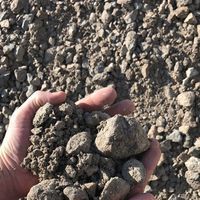 304s – Heavy Duty Base – Stone Size: 2" to Dust
#304 limestone is the largest gravel driveway stone size that includes dust. The stones measure, at their max, around 2". It is great for a new driveway installation as the first stone layer or base layer. Ideal driveways are hardy and long lasting. A large base layer can withstand constant pressure, and the dust and smaller stone pieces prevent shifting, movement, and erosion/ washout. As an additive to other products, 304s are a great rock size as a base underneath asphalt or as a filling product for muddy driveways.
Recommended Projects
New Gravel Drives

Base Material for Drives

Patching Material for Muddy Drives or Parking Lots

Base for Brick Pavers
How Would You Describe This Stone Size?
304s are the largest stone size of the crushed limestone variety. One of these stones would roughly fill the palm of your hand. As a crushed stone product, this stone does have irregular edges. While the largest pieces of stone are around 2", the product does also include smaller pieces and dust to minimize erosion and washout. With being so large, 411s are the most heavy-duty stone for drives that are going to get a lot of wear and tear from pressure and use. Choose this rock size for jobs that require erosion control, base material for driveways and parking lots, and patching for overly muddy areas.
Which Stone Size is Best for Driveways?
304s are the best choice for driveways that receive a lot of wear and tear either from excessive use or heavy equipment. The dust that is included in this rock size helps with erosion control. If you are looking to add driveway stone to an area that is muddy, this stone size product helps curb washout. Once the dust has time to settle and pressure has been applied from use for about a week or so, the dust and smaller pieces will become compacted, creating a heavy-duty drive that resists erosion and excessive shifting. Choose this stone size for the base of driveways that receive a lot of wear and tear and for patching muddy drives or parking lots.
How Can I Get #304 Limestone?
Green Earth provides both Delivery and Pick-up. Both retail and contractors are welcome to stop by our sales yard located in Holland, OH to browse the available products, speak to a sales representative, make their selection, and drive away with their desired stone product on the same day. Additionally, Green Earth provides delivery to a large circumference of nearby towns/cities. Browse the list below of Northern Ohio and Southern Michigan. If you don't see the area that you are looking for for delivery, give us a call. We are always looking to go the extra mile for our customers.
Areas That We Service – Ohio
Delta
Toledo
Holland
Swanton
Sylvania
Wauseon
Deshler
Napoleon
Archbold
Bryan
Whitehouse
Perrysburg
Bowling Green
Leipsic
Ottawa
Findlay
Genoa
Oak Harbor
Freemont
Tiffin
Defiance
Oregon
Areas That We Service – Michigan
Morenci
Monroe
Dundee
Temperance
Hillsdale
Adrian
Blissfield
Ann Arbor
Installation
At Green Earth Materials, we are happy to work with you to find the right solution to your project and needs. Our friendly staff are experienced in delivery, installation, and grading. Contact us today to find out what we can do for you.