Limestone #8
Bulk & Residential Delivery Service Available​ | Call For Pricing & Delivery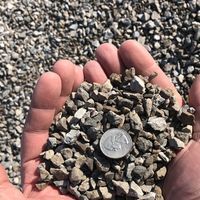 8s – Dime Size – Topping Stone, Good for Drainage
A slightly smaller, but still heavy-duty limestone product, #8s measure between 1/4" to 3/8". It is a clean stone without dust which allows for drainage. This driveway stone size is ideal for topping driveways parking areas, and it is easier to walk on, making it a great choice for walking paths. A smaller stone does not move as much as you create pressure on its surface—like walking or driving. If you are looking for a driveway stone that requires less upkeep, #8 limestone stays in place and provides a smooth finish. Additionally, this rock size is ideal for backfilling and as a base for both driveways and patios that need outstanding drainage.
Recommended Projects
Sub-base for Paving Jobs, Retaining Walls, and Sheds

Fill for Sunken Spots in Gravel Driveways

Topping for Gravel Drives and Parking Areas

Walking Pathways
How Would You Describe This Stone Size?
8s can be described as the size of a dime to a nickel. This stone size is a very nice top-dressing stone to fill in the cracks and crevices of a base stone. As a crushed stone product, this rock has irregular edges. It also does not include dust, so it appears clean, creating a more polished finished. Choose this rock size to top surfaces, fill sunken areas, and create a sub-base that requires drainage.
Which Stone Size is Best for Driveways?
8s are a good rock size for topping driveways, walking paths, and parking areas. The lack of dust and smaller stone size allows for some shifting, so 8s are good for areas on top of larger stone. Furthermore, if you are seeking to pave your driveway, this stone size is idea for creating a paver to achieve the desired grade before paving. Choose this stone size to either create a sub-base for a paved surface or to top a gravel driveway for a smooth surface that allows for drainage.
How Can I Get #8 Limestone?
Green Earth provides both Delivery and Pick-up. Both retail and contractors are welcome to stop by our sales yard located in Holland, OH to browse the available products, speak to a sales representative, make their selection, and drive away with their desired stone product on the same day. Additionally, Green Earth provides delivery to a large circumference of nearby towns/cities. Browse the list below of Northern Ohio and Southern Michigan. If you don't see the area that you are looking for for delivery, give us a call. We are always looking to go the extra mile for our customers.
Areas That We Service – Ohio
Delta
Toledo
Holland
Swanton
Sylvania
Wauseon
Deshler
Napoleon
Archbold
Bryan
Whitehouse
Perrysburg
Bowling Green
Leipsic
Ottawa
Findlay
Genoa
Oak Harbor
Freemont
Tiffin
Defiance
Oregon
Areas That We Service – Michigan
Morenci
Monroe
Dundee
Temperance
Hillsdale
Adrian
Blissfield
Ann Arbor
Installation
At Green Earth Materials, we are happy to work with you to find the right solution to your project and needs. Our friendly staff are experienced in delivery, installation, and grading. Contact us today to find out what we can do for you.