Screenings – Stone Size: 1/8" to dust
Bulk & Residential Delivery Service Available​ | Call For Pricing & Delivery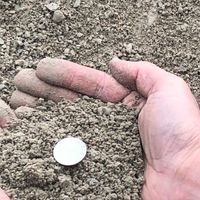 Limestone Screenings 1/4" Down to Stone Dust
Screenings are the absolute ideal stone size if you are seeking a driveway material that will not settle overtime. The material measures from a powder substance to 1/4". Imagine filling the space around a pipe or paver stone (or other object whose level and slope are imperative) with material to hold it in place. You will want to choose a material that will keep its place without settling. Additionally, screenings provide the smoothest finish, as they are the smallest stone available. Choose this driveway stone size to top a firmer base material to create a finished, smooth surface. As the most versatile limestone material, screenings are the "go-to" choice for landscaping and construction projects.
Recommended Projects
Base under Pavers

Top Loose-Fill Surfaces

Smooth Surfaces

Around and under Pipe and Sprinkler Systems
How is this Limestone Rock Size Created?
Green Earth creates, processes, and delivers Limestone Screenings out of our facilities in NW Ohio. Routinely, our stone mixtures are tested for quality to make sure that they live up to both state standards and the standards of our customers. Our screenings have been used on 1000s of jobs across Michigan and Ohio, and this rock size has proven its usefulness and quality.
What Can I Use Screenings for?
Screenings are the rock size necessary for a variety of landscape projects, sewer projects, construction projects, etc. This limestone product fills the space necessary and then will not shift after it initially settles. Looking for a reliable base to keep the desired grade? Limestone screenings is the best rock product for the job. Looking for a smooth finish to the top of a project? As the smallest limestone product, screenings provide the smoothest finish out of all the driveway rock sizes.
How Can I Get Limestone Screenings?
Green Earth provides both Delivery and Pick-up. Both retail and contractors are welcome to stop by our sales yard located in Holland, OH to browse the available products, speak to a sales representative, make their selection, and drive away with their desired stone product on the same day. Additionally, Green Earth provides delivery to a large circumference of nearby towns/cities. Browse the list below of Northern Ohio and Southern Michigan. If you don't see the area that you are looking for for delivery, give us a call. We are always looking to go the extra mile for our customers.
Areas That We Service – Ohio
Delta
Toledo
Holland
Swanton
Sylvania
Wauseon
Deshler
Napoleon
Archbold
Bryan
Whitehouse
Perrysburg
Bowling Green
Leipsic
Ottawa
Findlay
Genoa
Oak Harbor
Freemont
Tiffin
Defiance
Oregon
Areas That We Service – Michigan
Morenci
Monroe
Dundee
Temperance
Hillsdale
Adrian
Blissfield
Ann Arbor
Installation
At Green Earth Materials, we are happy to work with you to find the right solution to your project and needs. Our friendly staff are experienced in delivery, installation, and grading. Contact us today to find out what we can do for you.