We can do the grading for any project.
Improving yard drainage
Reducing erosion around a building
Preparing your home for a new driveway
Adding stone to an existing driveway
Improving access to your home with a drained yard
Preventing flooding in your basement
Directing water in areas that need drainage
Assisting with grading subdivisions
Call today for a quote!
We Mine It. We Haul It. We Grade It.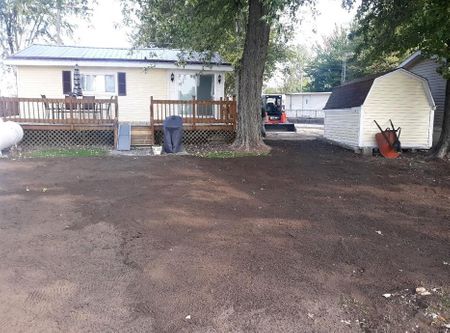 Erosion Control and Grading in Ohio
Green Earth was contacted by a homeowner who needed information and pricing on getting clean fill dirt and bulk topsoil delivered and graded at their residence in Oak Harbor, Ohio near the Toussaint Creek off of Lake Erie.
Frequently Asked Questions About Land Grading
1. When do I Need Land Grading?
If water is not draining away from your home, plan to lay new sod or seed. If you are building a structure, creating new landscape elements, or have slopes, you will want to smooth out.
2. What Are the Benefits of Grading?
Improve drainage to prevent flooding and structural damage to your home; create a more aesthetically pleasing yard; prepare for decks, patios, and driveways; and create a seamless transition from new to current sod.
Grading Contractors in Northwest Ohio
Whether you're building a new home in Northwest Ohio and need fill dirt, fill sand, or topsoil hauled and graded or your renovating an existing property, site preparation and grading will be key to the success of your project. A quality grading job will ensure that your site drains properly and does not flood or hold water.
Toledo Grading Contractors for Hire
Grading is crucial for a successful project, and it's important that you choose only the best site grading contractors in the Toledo, Holland, and Sylvania area. Green Earth is standing by to meet your grading needs. Contact Green Earth Materials today to discuss your grading needs and get your free estimate from one of our grading service experts in Toledo.
Skilled Driveway Grading Contractors Ohio
Green Earth has all the equipment and experts for driveway grading in Toledo. Call Green Earth today for a quote on hauling and grading driveway stone for new driveway installation or grading your existing stone driveway. Green Earth is proudly offering driveway grading services for the following areas in Ohio: Toledo, Sylvania, Swanton, Holland, Maumee, Waterville, Whitehouse, Grand Rapids, Liberty Center, Defiance, Napoleon, Stryker, Archbold, Wauseon, Lyons, Metamora, Perrysburg, Bowling Green and Oregon.
Expert Site Grading in Toledo, Ohio is Important
Expert site grading in the Toledo, Ohio area will ensure that you don't have problems from flooding or standing water. Grading ensures proper drainage on-site, protecting your foundations and structures. Without professional grading in Sylvania, Ohio, drainage problems might not become apparent until it is too late and that can cost you time and money. Addressing grading problems after a subpar performance can get expensive. Contact Green Earth site grading contractors today and get things right before you spend money and resources on fixing your grading and drainage problems.
Highly Trained Site Grading Professionals in Toledo, Ohio
Green Earth Grading Services has all the equipment, tools, and experienced workforce capable of handling your next large or small grading job. Our modern grading equipment and certified operators will get you the best results every time. All of our work is guaranteed.
Call Green Earth Today for the following grading services:
Yard Grading to Prepare Lawn for Seeding or Hydroseeding
Landscape Grading
Driveway Stone Hauling, Grading, and New Driveway Installation.
Hauling and Grading Fill Dirt and Fill Sand to Raise Existing Grade
Grading to Correct Drainage Issues
Hauling Topsoil and Grading Topsoil around New Concrete Patio or Concrete Pool Deck installation
Grading Stone Pads for New Pole Barn Construction
Hauling Stone and Grading New Stone Parking Lots
Hauling and Grading Asphalt Grindings or Millings
Get an Estimate for Grading Services in Toledo, OH
Green earth is ready to talk to you today about your Grading Projects, large or small. Green Earth Grading Services Toledo will respond quickly and give you an affordable estimate within 24 hours and follow through until the job is done. Contact us now for your free estimate and work with the best grading professionals in Toledo.